The following is a summary of a talk with Dr. Joey Von Nesson, research economist with the Moore School of Business at the University of South Carolina. Short and Sweet, we are in a SELLERS MARKET.
Quick summary: The total volume of home sales should level out, however this does not mean a downturn in the housing market. On the contrary, Charleston should continue to have a strong housing market based on our diverse economy, migration of people moving to the South, low interest rates, and a greater demand than supply available. Based on the above, we can expect a solid housing market for the greater Charleston area to continue through 2021.
CRAZY STAT: Projected Pct. Of U.S. Population Growth 2020-2040
58.1% Southern US, West 33.5%, Midwest 4.3%, North East 4.1%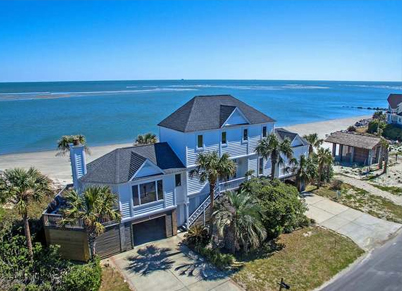 For those wanting a little more meat on the bone, please continue below:
Across many metrics we can claim SC recovery has been strong. Employment Growth, one of the main metrics has been rising since April 2020, following the huge covid drop off in March of 2020. South Carolina has tracked a very sharp 'V Shape' employment recovery until June of 2020, which then shifted to a 'U Shaped' slow and steady recovery. In terms of employment we are not quite there yet, but only down 3.4% in employment levels compared to pre covid employment levels which is great news. The bad news is while employment is up, Leisure/Travel, Food and Beverage took the biggest hit down 16.5%. If you remove this sub section from employment numbers, our employment rate is only down 1.5% from pre covid levels across South Carolina as a whole.
Focusing on the Berkeley, Charleston, and Dorchester tri-county area, Berkeley and Dorchester Counties were able to retain employment more than Charleston County during the recovery. However Charleston County has made great strides in recovery and with its more diverse economy.
This recovery trend is also indicated in the US Consumer Spending: Durable Goods. After the initial drop off in early 2020, it sharply rose as the year progressed in a 'V Shape' recovery. Container volume at the Port of Charleston has also recovered with the increase of Durable Goods spending and greater economic activity. US Consumer Spending: Services, has not recovered as strongly, again due to greater effects on concerts, restaurants, and other services.
What do these trends mean for the Charleston Real Estate market?
EXPECT DEMAND TO REMAIN STRONG IN 2021.
Very simple reason…Employment directly correlates to Housing. Employment is the best indicator of where the Housing Market Housing Activity is heading and we are in good shape here in Charleston. Greater growth, fuels greater demand for Durable Goods. A lot of companies like to be close the Port of Charleston, so expect more business and employment growth, thus continued Housing Demand.
We have a seasonal housing activity with more in the Spring and Summer months, June/July, but expect continued trend upward. Our Sales Activity in the Winter of 2020 was comparable to the Summer of 2019. That has never happened before and unique to what we are seeing. Price wise, Charleston SF Median Annual House Price Growth UP +2016-2020 about 5% per year average on a whole. BUT over the last year up 16% due to the heightened demand.
FOR INVESTORS AND THE RENTAL MARKET: The Rental Market may have more headwinds, especially with more construction moratoriums. At the same time SC and Charleston are still seeing high levels of demand and people moving into the area, thus the net change should be fairly minimal.
Stand Tall and Take Care!